After meeting Michael Johnstone and David Faulk—and seeing the fruits of the couple's decades-long collaboration on the photo diary "Mrs. Vera's Daybook" and collective art project Verasphere—seasoned filmmaker Robert James knew their story was ripe for the silver screen.
But partway through the filming of 2019's Verasphere: A Love Story in Costume, the writer-director was convinced that a brief short was inadequate to cover the AIDS survivors and community builders' overwhelming affection for one another, heroic activism during the epidemic, and mind-bending, joy-bringing art. 
"Michael and David's personal stories were as intriguing as Verasphere," James told 48 Hills. "They have a lot of history, a lot of activism. They've been around the planet for a while so they've lived through good and bad times. I wanted the film to reflect David and Michael's story and Verasphere."
To do them justice, he set to work on what would become the feature-length movie The Unabridged Mrs. Vera's Daybook.
Incorporating photography, video footage, and in-depth interviews with the film's subjects and Verasphere collaborators known as "Spheres," the moving film tells the story of a dynamic duo who found love, light, and creative liberty in a hopeless place.  
What started as a passion project in 1996, where Johnstone photographed Faulk (as Mrs. Vera in colorful makeup and unique costumes made from discarded clothing, toys, and trinkets) around the city, soon turned into a movement where similarly ensembled friends joined in the escapist fun at a time when so many were dying of AIDS. 
Johnstone and Faulk began leading custom couture classes at venues like Harvey Milk Center for the Arts so Spheres could learn to design their own costumes; the pair eventually saw their photos and fashionable creations exhibited in galleries and museums worldwide. 
After being recognized as SF Pride Community Grand Marshals in 2019 and marching in that year's parade (captured beautifully in James' expanded 80-minute film), they'd soon hit a new roadblock—COVID lockdown—the following year that threatened the community-focused Verasphere's ability to persevere.  
The Unabridged Mrs. Vera's Daybook's is now available on Apple TV+ and Prime Video; I spoke to James, Johnstone, and Faulk about the movie, turning agony into art, and doing something different in a homogenous world.
48 HILLS Did you ever imagine there'd be a film about your lives?
MICHAEL JOHNSTONE As a long-term survivor, it's amazing to have a film made and be here to see it. But I never envisioned that. I've just been moving along with my life doing what I do. And while I knew that I enjoyed doing what we did, I had no idea it would get documented this way. We did photograph constantly, but Robert's film—with the parade footage and seeing our people in their costumes from a different vantage point—is pure magic. 
DAVID FAULK The photographs were our attempt to leave a body of work behind so we didn't feel erased. But I never thought about a movie because we're not stage performers, which is unusual for drag. We're much happier just being in the audience or making a nontraditional stage somewhere. But we're not driven to perform the way most people who do drag or costume stuff have the alter-ego. For us, that was always second.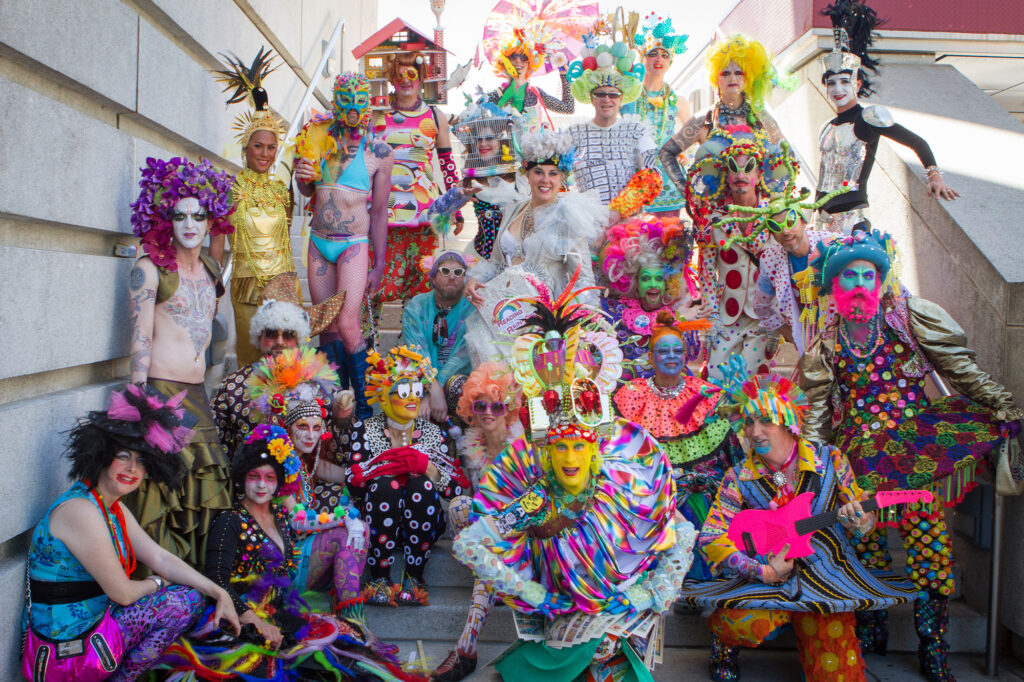 48 HILLS One of the themes in the film is creating art during devastating times. What kept you pushing forward in moments when you might have crumbled?
MICHAEL JOHNSTONE If I hadn't pushed forward, I would never have gotten here. But to offset the darkness, even on the worst days, there was always a manic joy in going out. I wouldn't liken it to the Danse Macabre, but there was a period where it felt like everything was just going to fall apart, so the shock of that—and then realizing, "I'm still here."
DAVID FAULK It motivated us to make work amid all this calamity because it felt like the clock was running out. Until drugs started helping people, it was only a matter of time for everyone. So we wanted to make the best possible use of that within our energy levels. Then we got so much back from it in terms of energy from people who saw it. And once the group took off, it sustained us. So it became something that we did for our health. 
48 HILLS David, you said about Verasphere, in the film, that more important than the financial gain was having a world with "that kind of stuff in it." Talk to me about what Verasphere adds to the world.
DAVID FAULK That's the response we get from people who view us or interact with us in person; they're expecting the commercial aspect, and it never arrives. And it blows their mind that it can still be done that way. It blows my mind that we can do this and get such a great response and not have it be a financial undertaking. 
That's what I associate with the people that were lost because it was such an exciting time for arts and expression. Then the epidemic hit and just changed everything. So I think many people feel like they've lost the whole world that the people they lost were in. We always felt if we could recreate that memory for them, then it would be very healing.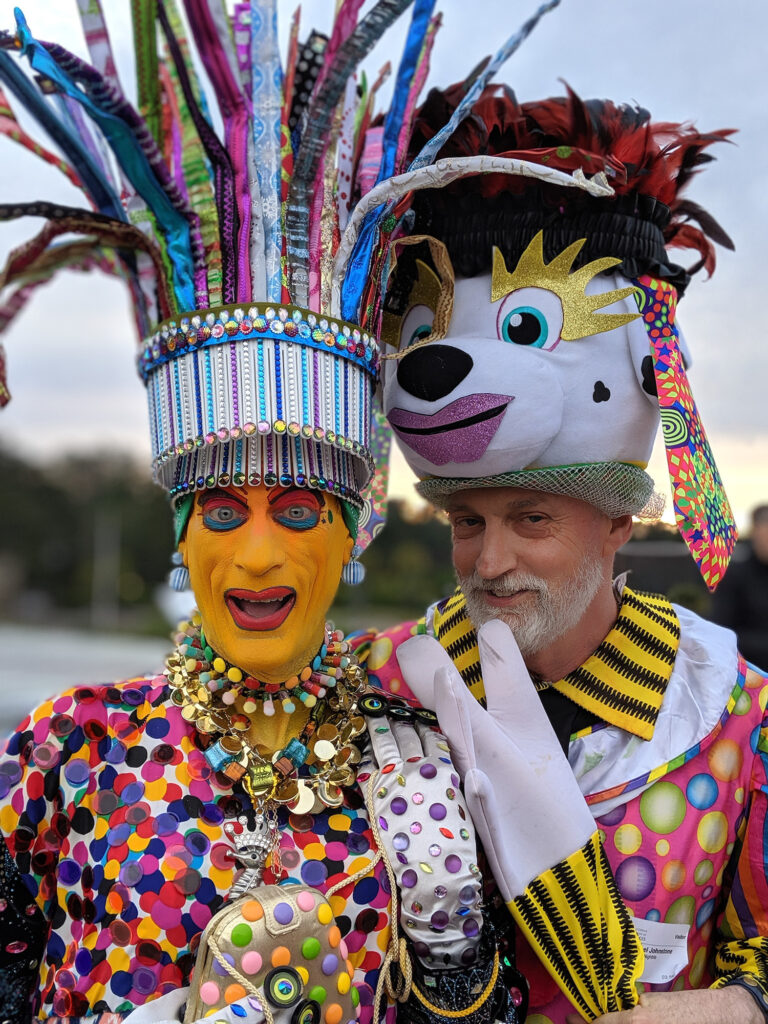 48 HILLS In 2019, you were voted Community Grand Marshals for the Pride parade. Last year, The Unabridged Mrs. Vera's Daybook premiered at Frameline. This year, you made the cover of the Bay Area Reporter and also won the Absolutely Fabulous Contingent award along with Openhouse SF.
MICHAEL JOHNSTONE Yeah. We march with Openhouse and other agencies to get them the attention. So I'm glad somebody ran up and gave Openhouse that ribbon. 
48 HILLS Why is it vital to raise awareness for an organization like Openhouse?
MICHAEL JOHNSTONE I've always been big on trying to get things intergenerational where people realize we do get older, and there are different ways to do it. And there are different ways to let people know as we age that we're there for each other. 
Openhouse spoke to me because of my age and peers that may or may not have the chance to live there. Housing is so hard to get here.
DAVID FAULK Our generation lost so many of the people who would be our mentors, and the ability to mentor someone comes with experience and age. So I'm thrilled to connect some of those long-term survivors back into being a source of information for younger people because there isn't a lot of education about what we went through as a generation. And it feels great to encourage the relaying of those experiences to as many eyes and ears as possible.
ROBERT JAMES We have donated our film to a couple of colleges already. I think we would be a great addition to any LGBTQ studies program. We feature a lot of great history, and it's never more apparent than when you've got some young people in the audience who didn't even know about the NAMES Project AIDS Memorial Quilt, or ACT UP. We just give a snapshot of it but it will spark people to learn more.
48 HILLS How have the perceptions of Verasphere changed over the past three decades?
MICHAEL JOHNSTONE  We became more and more on the radar. We used to be these two people doing this thing with two or three friends and never saw it as being anything. We never had a name. So what's changed is the momentum, and the film cemented who we are and where we are in the world.
DAVID FAULK Things haven't changed much for us. We would get the same responses in the beginning that we get now. But as artists, it's incredibly gratifying to interact with a stranger who's not in a museum. They're not looking for art but recognize that they're having this artistic experience in exchange. It's exciting for them to be involved in it, and that's just gotten more so with the film. We're getting that response from so many people that we don't know who see it.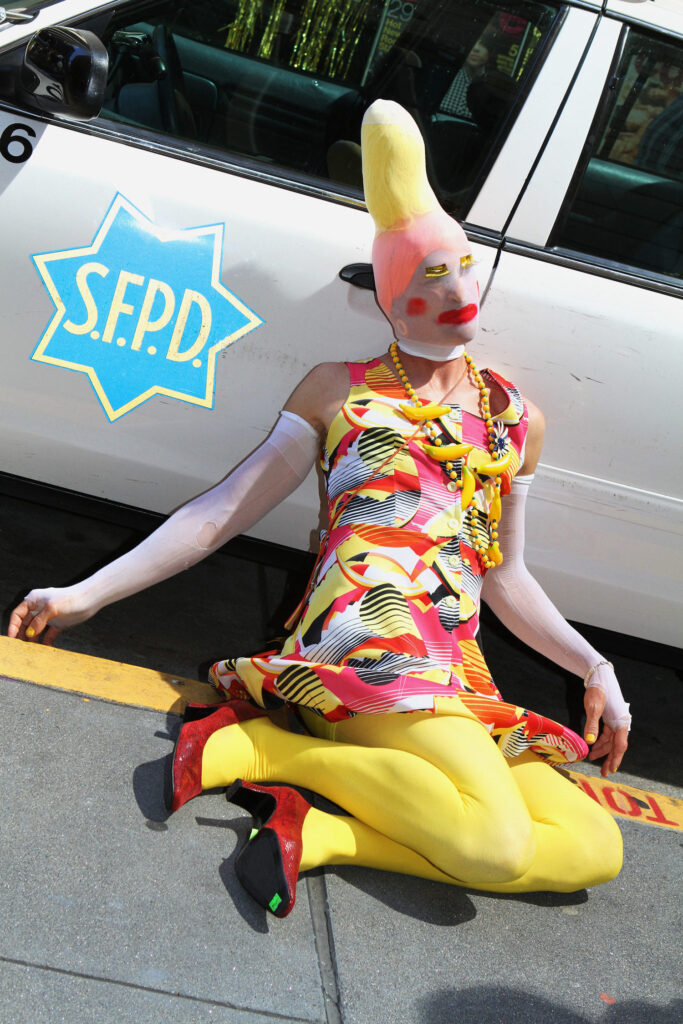 48 HILLS Michael, you ask in the film, "How do we create something new and fresh? Not a replacement, but something new." Answer that question for me.
MICHAEL JOHNSTONE Well, first off, you have to take some chances. You have to do something you haven't done before and encourage someone to create a new dance. 
DAVID FAULK The key to new work has always been honesty. You have to bring what you're interested in and deal with it as directly as possible.
I'm making these jackets now, which are very new, but it's a very logical extension of the costumes. They're more wearable than parade wear. 
The fact that two older gentlemen are wearing this kind of punk-rock, glamorous-looking jacket everywhere they go makes people as happy as seeing Vera in the park with flowers.
THE UNABRIDGED MRS. VERA'S DAYBOOK is now available for purchase on Apple TV+ and Prime Video. More info here.