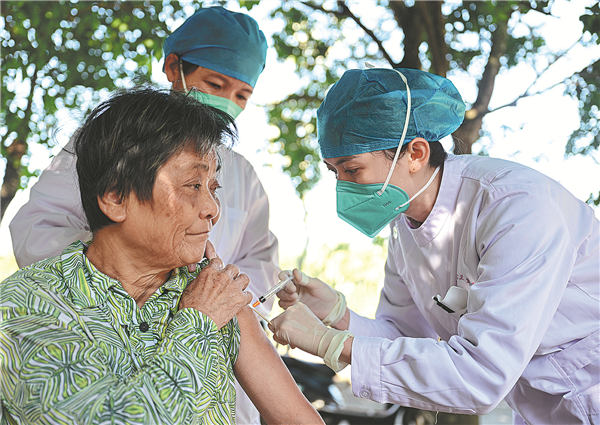 Unlike the ordeal at the onset of the COVID-19 pandemic three years ago, Wuhan resident Huang Jianmei was not in a state of panic after getting infected again, this time with the Omicron variant.
Huang had a cough, but the symptoms were mild. She took some medicine and recovered, without going to the hospital. She has completed a full course of vaccination against COVID-19, including a booster shot.
"Owing to nearly three years of pandemic control efforts nationwide, the diagnosis and treatment have been optimized. The virus is not as destructive as before," says Huang, 50.
Huang lost her husband to the COVID-19 outbreak in early 2020, but she, her son, and her daughter, who were all infected, survived.
Huang was in a critical state and was first transferred from a quarantine site to a designated COVID-19 hospital. She was then moved to Huoshenshan Hospital, which was temporarily built for treating COVID-19 cases. After about two months of treatment, she was discharged upon recovery.
As one of the first critical patients who successfully recovered after treatment, Huang has participated in a national clinical treatment and research project on stem cells since her recovery.
"Without the help of my country and medical staff, I would not have had a second chance at life. Therefore, I would like to play an active role in helping other patients," she says.
To contain the pandemic in Wuhan in early 2020, more than 40,000 medics from across the country rushed to the central Chinese city as part of the largest mobilization of medical resources since the founding of New China in 1949. Thanks to the resolute efforts of the medical personnel, over 3,000 COVID-19 patients aged 80 and above were cured.
Since securing the strategic outcomes in the battle to defend Hubei province and its capital city of Wuhan, China has effectively tackled more than 100 cluster infections over the past three years, fighting different variants of the virus including the Delta and Omicron strains, and upholding the principle of putting people"s lives and health above everything else.
In 2022 alone, a number of centenarians fully recovered from COVID-19 infections after medical treatment.
In Northwest China's Xinjiang Uygur autonomous region, 101-year-old woman He Cui recovered from COVID-19 after 10 days of medical treatment. Her daughter Li Ti described the recovery of the elderly woman, who has underlying conditions such as hypertension, as "miraculous".
China has managed to keep its severe COVID-19 cases and death rates among the lowest in the world.
The average life expectancy of the Chinese people has continued to rise amid the pandemic, from 77.93 years in 2020 to 78.2 years in 2021.
At a vaccination site in Beijing's Haidian district, an increasing number of elderly people have been spotted recently. An 87-year-old woman who had already received a COVID-19 vaccine booster shot says she accompanied her 91-year-old husband to get the third shot.
In China, over 90 percent of the population has been fully vaccinated. Almost 87 percent of people over the age of 60 have been fully vaccinated, but only 66.4 percent of people over 80 have completed a full course of vaccinations.
With a population of 267 million aged above 60, China is accelerating vaccination among this group. In late November, the country released a work plan to improve the vaccination rate among the elderly.
Beijing Ditan Hospital treated more than 100 COVID-19 patients over the age of 80 at its peak.
"The vaccination rate among those elderly patients is generally low, therefore, the incidence of severe illness after infection is relatively high, especially for those who have underlying diseases," explains Chen Xiaoyou, deputy director of the hospital.
In Beijing's Shijingshan district, door-to-door services are offered to help the elderly get vaccinations.
Xu Xiaotao, a community worker in Shijingshan district, says a mobile inoculation team, comprising about five to six community workers and medics, is usually responsible for vaccinating senior citizens in over 30 households in the course of an afternoon.
Other measures such as the "green channels" for the elderly, have also been adopted in different places to boost the vaccination rate.
With the optimization of pandemic control measures, the focus of China's pandemic response strategy was shifted from infection control to case treatment with the objective of preventing severe cases.
China is also accelerating efforts to expand the capacity of fever clinics at medical institutions. By the end of October, there were 19,400 fever clinics or consulting rooms at community healthcare centers and township level across the country. It is expected that by March 2023, about 90 percent of township-level health centers will be equipped with fever clinics, says an official with the National Health Commission.
China has prepared medical facilities for treating severe cases as the country is witnessing a rise in the number of such patients. Third-grade hospitals should take in COVID-19 patients with severe conditions, as well as those with multiple underlying conditions, says Jiao Yahui, an official with the National Health Commission.
Third-grade hospitals rank at the top of China's three-tier hospital grading system. They have the most hospital beds and provide comprehensive medical services.
Senior patients with underlying conditions and children should be directly transferred to third-grade hospitals as soon as their conditions change, Jiao adds.
Jiao also emphasizes that medical treatment should be strengthened for key groups, and special attention should be paid to key areas with a dense elderly population, such as nursing homes and welfare homes. Local health departments, civil affairs departments and hospitals have been urged to give assistance to nursing homes and welfare homes, and provide health guidance for the elderly.