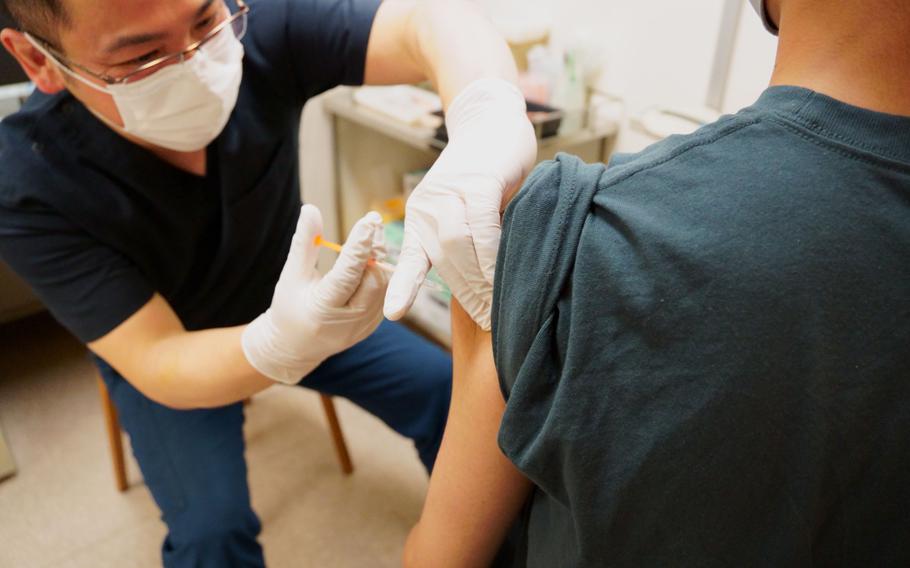 TOKYO – Life in Japan's capital city took a turn toward normal Friday, a day after the government lifted a state of emergency in 19 prefectures that stood in some places for 2 ½ months.
Commuters crowded railcars in central Tokyo, despite persistent rains from Typhoon Mindulle that skirted the city at sea far to the east.
Meanwhile, the coronavirus further loosened its grasp in Tokyo, which registered 200 newly infected people Friday, according to public broadcaster NHK. The number of seriously ill people in the city fell by seven to 93, the first time that number has dipped below 100 in nearly two months.
U.S. military bases in Japan reported 13 new cases of COVID-19, the coronavirus respiratory disease, from the past week.
Yokosuka Naval Base, the homeport south of Tokyo for the U.S. 7th Fleet, reported two new cases, according to a base news release Friday.
Both patients – one immunized and one unimmunized – tested positive sometime since Tuesday after falling ill with COVID-19 symptoms. Yokosuka has five patients under observation.
Kadena Air Base on Okinawa reported 11 new cases since Sept. 25, according to a weekly update posted on its website Friday. The air base also relaxed restrictions it imposed during the most recent COVID-19 surge.
The list of prohibitions is short: No one from Kadena, vaccinated or not, may dine indoors at restaurants off base between 9 p.m. and 5 a.m. Concerts, festivals, bars, clubs, karaoke parlors and lounges remain off-limits for all.
For unvaccinated individuals, many indoor activities remain off-limits, including bowling, indoor gyms, arcades, movies and pachinko parlors.
Okinawa prefecture said another 41 people turned up positive for the coronavirus Friday and five died, according to the prefectural Department of Public Health and Medical Care.
Japan registered 1,568 new cases on Thursday and another 42 deaths, according to the Johns Hopkins Coronavirus Resource Center. Nearly 60% percent of its population are fully vaccinated.
South Korea update
U.S. Forces Korea reported another 17 people turned up with COVID-19 since Sept. 19, according to a news release Thursday.
Three service members at Camp Humphreys, one at Osan Air Base and three at Camp Casey, plus two South Korean employees at Humphreys, tested positive after developing symptoms.
Contact tracing discovered seven more: two service members at Suwon Air Base, one at Osan and one at the K-16 Army airfield, along with three family members at Humphreys.
Finally, a family member at Osan came up positive Sept. 26 on a test required for international travel, according to the USFK news release.
South Korea registered 2,486 new cases, including 907 in Seoul and 817 in Gyeonggi province, where Humphreys and Osan are located, according to the Korea Disease Control and Prevention Agency.
Of the total population, 76% have received the first of a two-dose coronavirus vaccine; 50.1% are fully vaccinated, according to KDCA.
Stars and Stripes reporters Yoo Kyong Chang and Mari Higa contributed to this report.