This daily round-up brings you a selection of the latest news and updates on the COVID-19 coronavirus pandemic, as well as tips and tools to help you stay informed and protected.
Top stories: COVID-19 causing medical supplies shortages in United States; WHO makes call to leaders at UNGA; Indonesia reports lowest daily rise in more than a year.
1. How COVID-19 is affecting the globe

Confirmed cases of COVID-19 have passed 229 million globally, according to Johns Hopkins University. The number of confirmed deaths stands at more than 4.7 million. More than 5.95 billion vaccination doses have been administered globally, according to Our World in Data.
Pfizer/BioNTech announced yesterday that their COVID-19 vaccine induces a strong immune response in 5 to 11-year-olds. They plan to seek regulatory approval as soon as possible.
Doctors in Thailand have been given the go-ahead to give COVID-19 booster shots under the skin, rather than injecting into muscles, in an effort to strengthen immunity and stretch supplies.
The German government is not giving a target date for lifting COVID-19 restrictions, as it's unclear how the pandemic will develop over the Northern Hemisphere winter.
2. COVID-19 causing medical supplies shortages in United States

Shortages of masks and gloves have spread to other medical items in the United States, from exam tables and defibrillators to crutches and IV poles.
It can now take up to five months to get some types of exam tables, for instance, compared to three to six weeks before the pandemic, according to CME Corp, a distributor of medical equipment that handles over 2 million products.
"Right now, because of the supply chain stress that's being caused by COVID, almost everything is delayed," said Cindy Juhas, CME's chief strategy officer. "A lot of the stuff we sell is not sitting in a warehouse where you just call and say, 'Send it over'. It needs to be built."
Many of the items in short supply aren't related to COVID-19. For example, heart defibrillators that used to take two weeks to deliver now require three months.
It's part of wider supply chain disruption. The Port of Los Angeles/Long Beach announced last week that a record 60 container vessels were waiting offshore to unload.
Each of our Top 50 social enterprise last mile responders and multi-stakeholder initiatives is working across four priority areas of need: Prevention and protection; COVID-19 treatment and relief; inclusive vaccine access; and securing livelihoods. The list was curated jointly with regional hosts Catalyst 2030's NASE and Aavishkaar Group. Their profiles can be found on www.wef.ch/lastmiletop50india.
Top Last Mile Partnership Initiatives to collaborate with: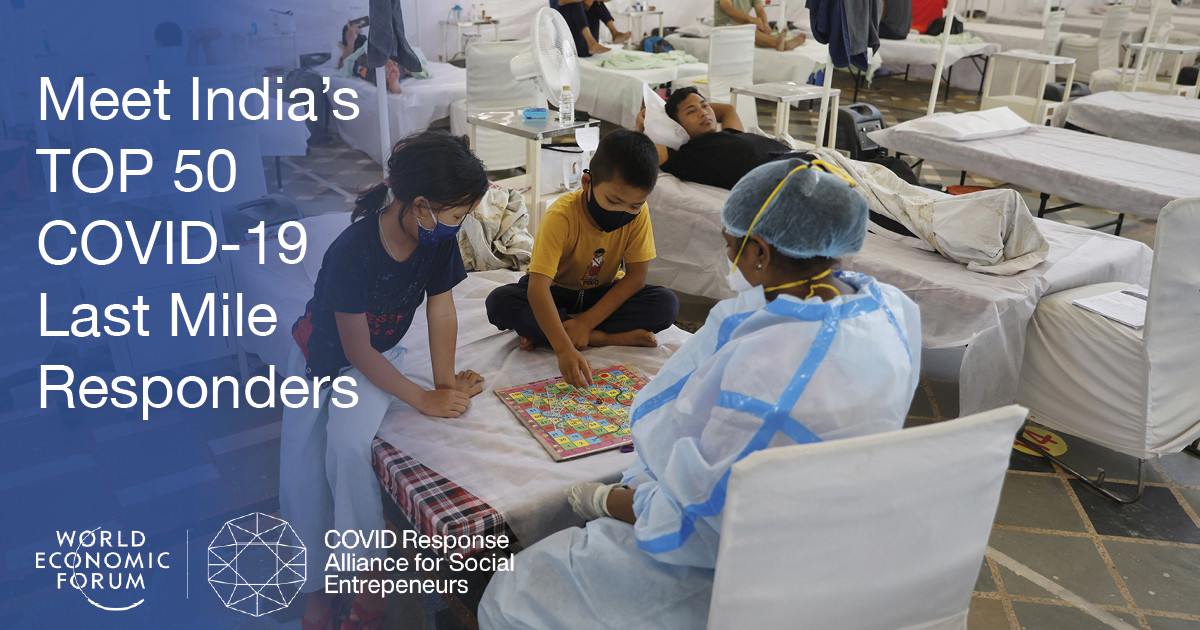 3. WHO makes call to leaders at UNGA

The World Health Organization has called on leaders at the United Nations General Assembly to guarantee equitable access to COVID-19 vaccines, ensure the world is better prepared to respond to future pandemics and renew efforts to achieve the Sustainable Development Goals.
Nearly three-quarters of all COVID-19 vaccine doses have been administered in just 10 countries. The WHO warns that the longer this inequity persists, the more the virus will circulate and the longer disruption will continue.
The organization also urged countries to break the cycle of 'panic and neglect' that's been seen after previous health emergencies. The WHO called on nations to prepare better for future such emergencies.