I believe our best artistic works — whether they be architecture, music, painting, sculpture — ultimately become so over time.
What's popular today might not be tomorrow. Classical works are classical not because of what people thought when the works debuted but because they're interesting or beautiful or popular (or some mix of all that) enough that new generations value them, at least enough to pass them along to new generations.
Of course, even classics evolve over time, and that's part of their intrigue and appeal, too. The famous sculpture Venus de Milo lost her arms long ago but can still captivate.
One work that has survived 30 years — and evolved over that time — is the "America Street," also known as the "House of the Future," an architectural and artistic creation straddling America and Reid streets on Charleston's East Side.
It's a rare survivor among 18 site-specific art installations built for the 1991 Spoleto Festival's "Places with a Past" exhibition. (Ronald Jones' sculpture in the vestibule at Mother Emanuel Church is the only other.) The exhibition was one of the festival's most innovative and accessible offerings, though it also led to regrettable blowback that almost brought Spoleto to an end.
Of course, the festival survived, as has the "House of the Future," at least so far. But more people may need to step up if it is going to last another 30 years (or longer).
I hope it does.
Created by New York artist David Hammons with local building contractor Albert Alston, the house is a thought-provoking meditation on the status of African Americans in Charleston during the late 20th century. Its provocatively narrow width, only about 8 feet, made it not only uninhabitable but also a dramatic symbol of the more marginal housing many African Americans have been forced to rely on. But the house's design also reflects Charleston, from its side piazza to its familiar materials to its northside manners (few or no windows on the side opposite the piazza).
Alston built it from scrap he accumulated during his work on other Charleston homes, and it's partly intended as teaching tool for the city's construction methods (smaller plaques note the different materials). Its coloring and details have changed a little over the years, with Alston's frequent maintenance work, but it also remains remarkably the same. Its original mixed metal, slate and shake roof survives, as does a plaque explaining how the work of art was shaped with help from local residents as it also attempted to give something back to them.
The thin house is just half the overall artwork also known as "America Street." Catty-corner is a small park with a billboard picturing local African American students looking upward (it replaced a billboard advertising cigarettes). "Their concentrated gaze taking on new meaning of hopeful determination when Hammonds placed a modified American flag in their projected line of vision," the plaque notes.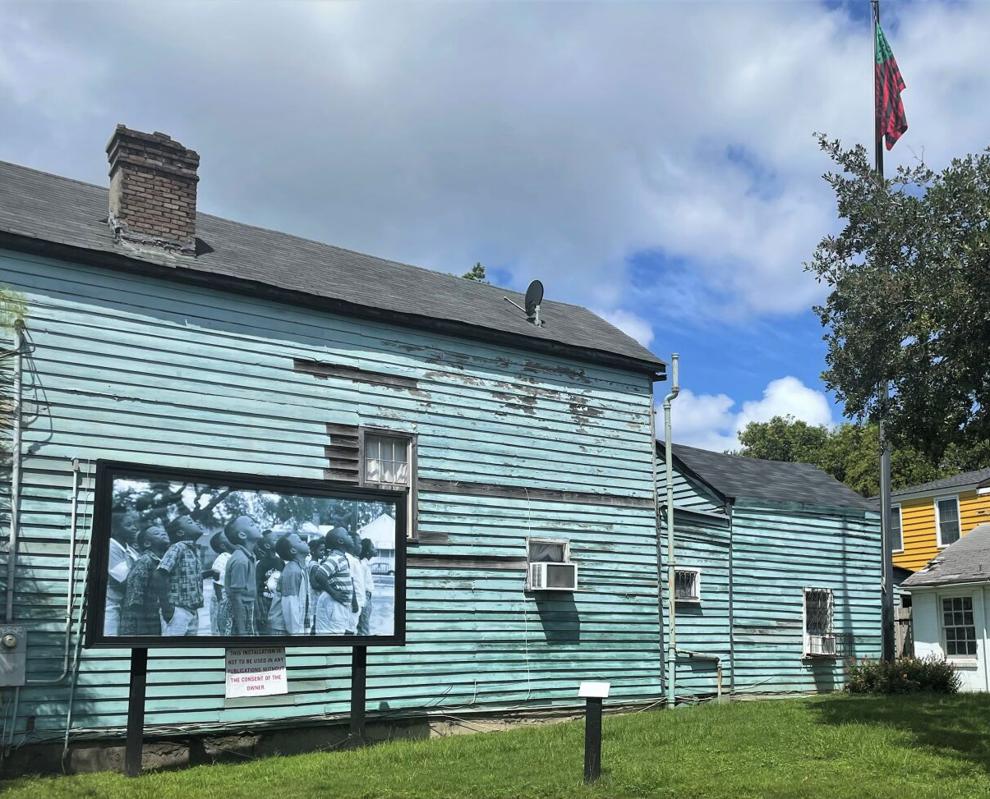 On that north side also is painted a provocative statement: "The Afro-American has become heir to the myths that it is better to be poor than rich, lower class rather than middle or upper, easy going rather than industrious, extravagant rather than thrifty and athletic rather than academic." It was a provocative statement when first painted in 1991 and seems only moreso today, as society takes a closer look at historical inequities that led to the persistent disparities between blacks and whites.
Those passing by the house today, however, can see a different sign of tension. Actually, several signs, each of which reads, "This installation is not to be used in any publications without the consent of the owner." Alston says he put up the signs because he doesn't want anyone using its image to pad their own pocket, at least without talking to him. It's just one way he tries to maintain and defend what he feels is Charleston's most important piece of art.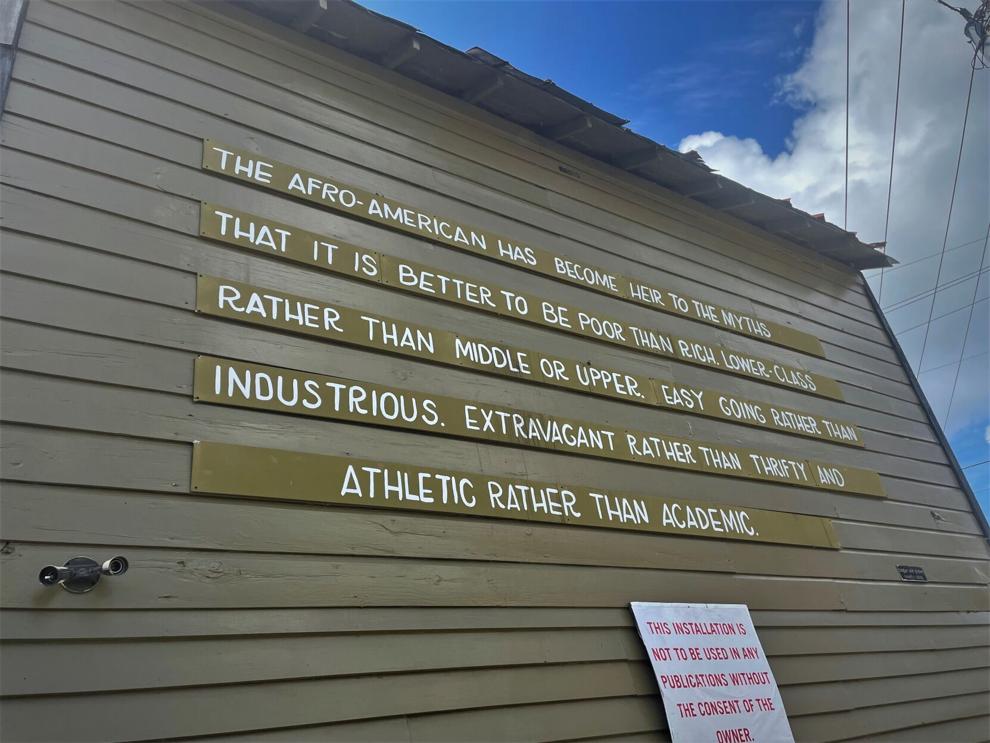 "That's the story that needs to be told. That's the story they aren't telling," he said. "I don't know if they really know the significance of what the piece really means or what the piece stands for. … That's the most living piece of art in the whole world. You look at it one way, I look at it another way, and another person looks at it another way."
Let's hope we all keep looking at it, and that it remains there to look at — and learn from.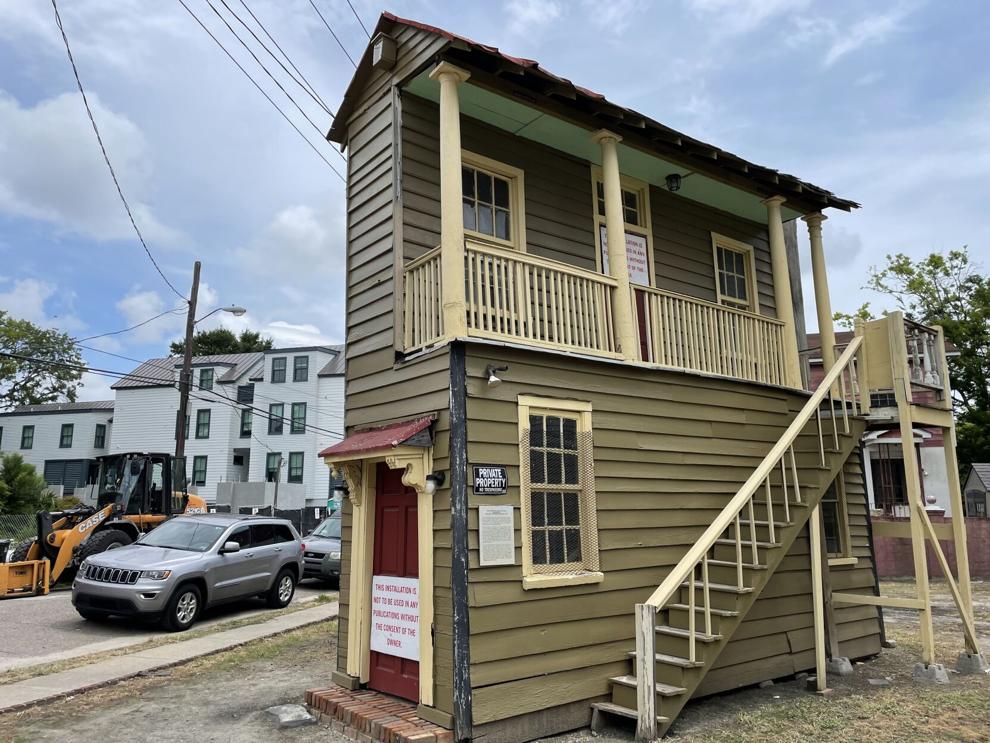 Reach Robert Behre at 937-5771 or rbehre@postandcourier.com.