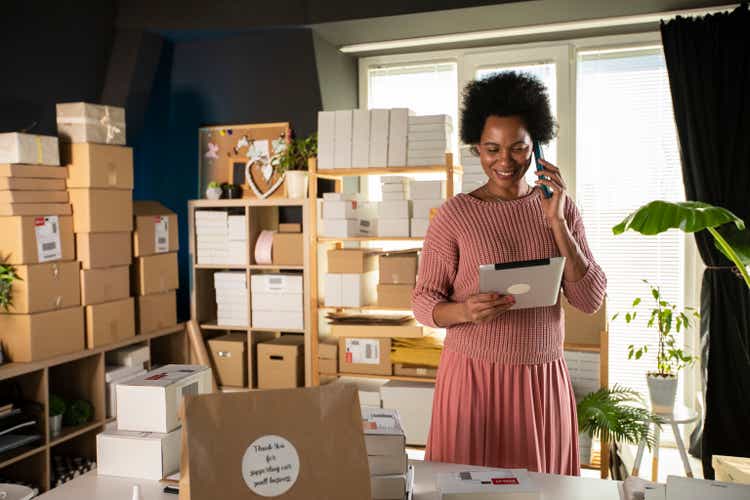 Intro
Etsy, Inc. (NASDAQ: ETSY) is an American e-commerce company that has provided shareholders with staggering returns (over 800%) from March 2020 to November 2021. However, since then the tide has turned, and ETSY is down over 60% from its November highs. In this article, I'll dissect why I believe ETSY was not just a "pandemic play," but a fundamentally strong business with significant long-term upside.
Company Overview
With a mission to "keep commerce human," ETSY is an online marketplace with a focus on handmade and personalized goods, vintage items, and craft supply products. Etsy is a two-sided marketplace aimed at connecting buyers and sellers of these goods through its various platforms – primarily Etsy.com.
Etsy's revenue is driven by two key factors:
1) Marketplace Revenue (required fees)
Transaction, payment, listing, and offsite ad transaction fee
2) Services Revenue (optional)
On-site ads, shipping labels, and other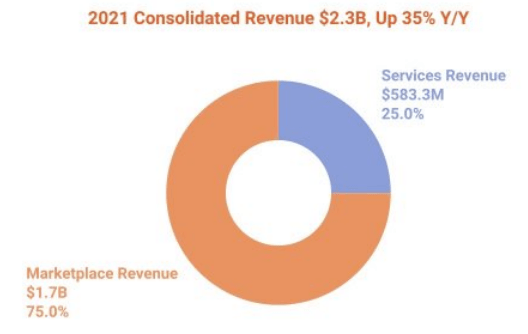 Etsy has carved out a niche within the $466 billion e-commerce space, competing with the likes of global industry giants such as Amazon (NASDAQ: AMZN), MercadoLibre (NASDAQ: MELI), JD.com (NASDAQ: JD), Sea Limited (NYSE: SE), and eBay (NASDAQ: EBAY). While the e-commerce industry is a competitive space, Etsy's focus on handmade and vintage goods solidifies its value proposition and competitive positioning.
Pandemic Performance & Recent Sell-Off
On April 15, 2015, Etsy made its public market debut at an IPO price of $16. Shareholders that held on have witnessed market-beating returns over the 7-year ride.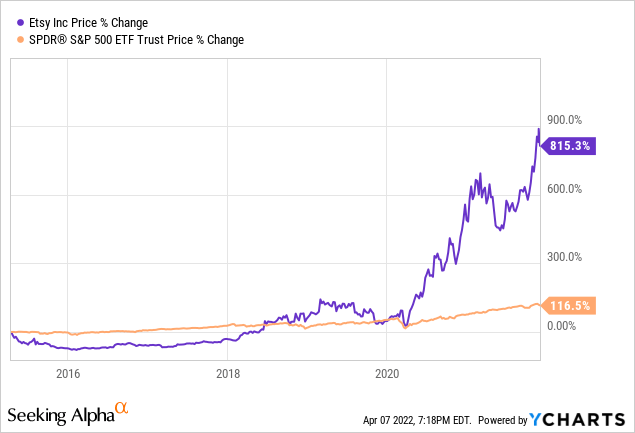 However, since November 2021, market sentiment for Etsy turned bearish, with the stock down almost 60% from its highs compared to the market's -2.23%. The figure below shows Etsy's return compared to SPDR S&P 500 ETF (NYSEARCA: SPY).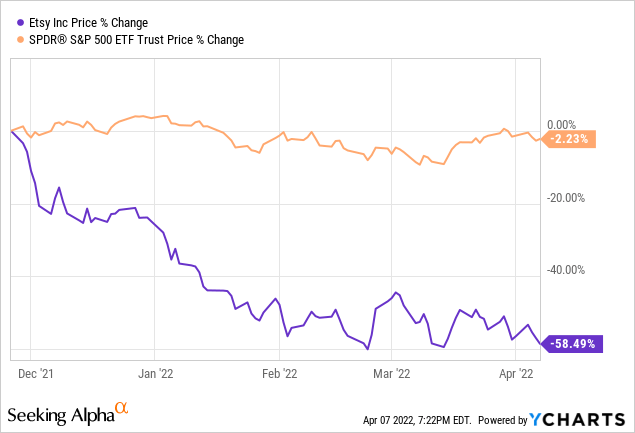 The Bull Case for ETSY
Strategic Acquisitions & Capital Light Business Model
Etsy has seen tremendous revenue and earnings growth since its IPO. While solidifying its presence as a viable e-commerce global marketplace, Etsy is not resting on its laurels. The company continues to seek new market opportunities to further expand its global presence and supercharge its growth flywheel.
In 2019, Etsy acquired Reverb, an online marketplace for vintage music gear for $275 million in cash. Most recently, in July 2021, Etsy acquired Depop Limited and Elo7 for $1.625 billion and $217 million, respectively. Depop is a P2P fashion marketplace based in London and Elo7 is a Brazilian marketplace for handmade and unique items, known as the "Etsy of Brazil." While Etsy's main marketplace will drive the majority of sales in the short-medium term, it has demonstrated a commitment to expanding its global focus and building a sustainable competitive advantage.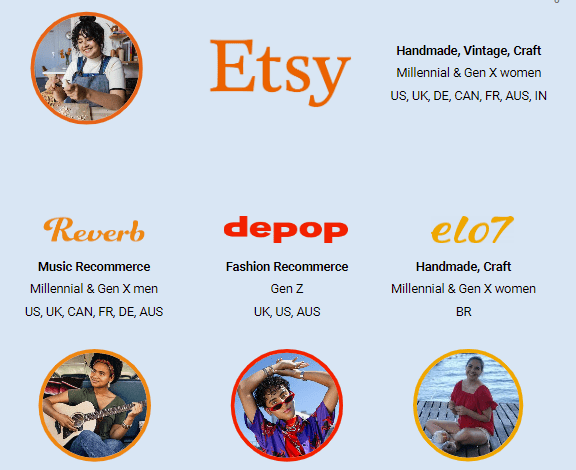 Furthermore, unlike e-commerce giants such as Amazon and Shopify (NYSE: SHOP), Etsy does not own and operate any fulfillment centers. While Etsy assists sellers with postage labels, shipping tracking, and calculated postage, sellers claim responsibility for the fulfillment of any customer orders. Thus, this makes for a capital-light business model that allows Etsy to reinvest into its service offering and focus on strategic priorities.
Buyer and Seller Growth – Network Effects
Competitive advantages for most social media and marketplace companies are built on network effects – in that the overall product becomes stronger the more users/participants are involved. Meta Platforms (NASDAQ: FB), Twitter (NYSE: TWTR), Snap (NYSE: SNAP), and Pinterest (NYSE: PINS) are social media giants that are reliant on network effects for strong moats. Much like Etsy's reliance on having enough buyers and sellers on its platform, Uber (NYSE: UBER) and Lyft (NASDAQ: LYFT) are also reliant on network effects to ensure supply (drivers) and demand (riders) equilibrium. Without users, the aforementioned rideshare companies are nothing more than quirky pieces of technology.
Hence, in order for Etsy to establish a stronger moat, the growth of both its buyers and sellers is vital. As depicted by the two graphs below, Etsy has exponentially grown its total active buyers and sellers consistently from F2012 TO F2021. While COVID significantly accelerated growth in 2020, the number of active users continued to rise in 2021.
CEO Josh Silverman also mentioned Etsy's ability to retain the adoption of its platform and the company's market share potential.
Reflecting on 2021, it is fair to say that Etsy has retained much of the positive impact we've seen from the dramatic adoption of e-commerce following the start of the COVID-19 pandemic. In fact, more than half of Etsy's 2020 active buyers, and 37% of new buyers came back to make a purchase in 2021. In addition to gaining market share, driving excellent buyer engagement, building Etsy's brand globally and helping our sellers grow, we continued to take care of our people, communities, and the planet. We're also leveraging Etsy's operational playbook for our most recent acquisitions — Depop and Elo7 — which, alongside Reverb, expand the reach of our overarching mission to 'Keep Commerce Human.'
Etsy will establish significant pricing power as it increases the number of active users on its platform. Effective April 11, 2022, Etsy will increase its seller transaction fee from 5% to 6.5%. The last time Etsy increased its fee was in 2018, from 3.5% to 5%. As sellers continue to recognize the value of Etsy's marketplace and reliance on the platform, it is unlikely it will experience any churn from a 150 basis point fee hike.
Entrepreneur Joe Mansueto, Founder and Executive Chairman of Morningstar (NASDAQ: MORN) says "once you create a loyal customer base, it's tough for a competitor to take that away." As Etsy continues to acquire users and benefit from network effects, it will effectively be able to lock in sellers to its platform, thereby increasing its Gross Merchandise Volume (GMV).
Industry Tailwinds & Switching Costs
Etsy's Investor Presentation data states the e-commerce market as a subset of the retail TAM is worth $466 billion, implying Etsy has only scratched the surface with a 2.6% market share. While $466 billion is a rather unrealistic feat to achieve for a niche e-commerce business, this provides ample room for Etsy to benefit from secular tailwinds and continue to grow. According to data from Statista, the e-commerce market is set to continue its growth trajectory in a post COVID environment (see below).
While TAM data is not always reflective of future growth, Etsy's internal data & analytics prove that sellers are committed to staying on the platform and growing revenue. Specifically, 71% of all sellers consider their shop to be a business and 82% aspire to grow their sales in the future. Further, over 3 in 10 sellers have pursued their creative "Etsy business" as their sole occupation, exhibiting reliance on Etsy's marketplace. Based on this data, it is clear that switching costs are extremely high as Etsy's platform provides notable value to sellers, reducing the potential for any churn (loss of users). Sellers will continue to rely on Etsy as they accumulate more reviews and further their brand presence on the platform. Additionally, on the buyer's side, Etsy survey data shows that 87% of buyers state that Etsy carries items they cannot find anywhere else and 72% agree there are no stores similar to Etsy. Overall, Etsy data characterizes the demand for Etsy both on the supply (sellers) and demand (buyer) side.
Financials
Unlike many other growth names with large addressable markets, Etsy's growth strategy has yielded stellar earnings and free cash flow. As depicted by the chart below, 2020 significantly increased Etsy's top and bottom-line performance with revenue growth of 111% and net income growth of 264%. However, Etsy still posted full-year 2021 revenue and earnings growth of 35% and 41%, respectively, indicative of the business's sustainability in a post COVID environment.
Valuation
As the market sell-off for Etsy continues, its earnings multiple has contracted to 34x. Its P/CFO and P/FCF multiples are 26x and 27x, respectively. Relative to its e-commerce peers, Etsy is trading at a reasonable multiple.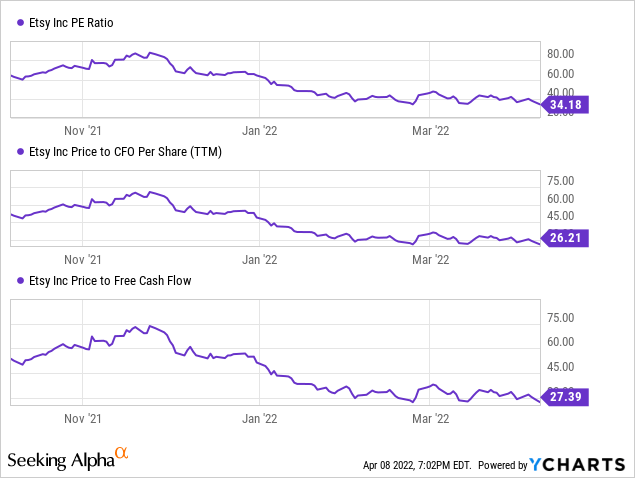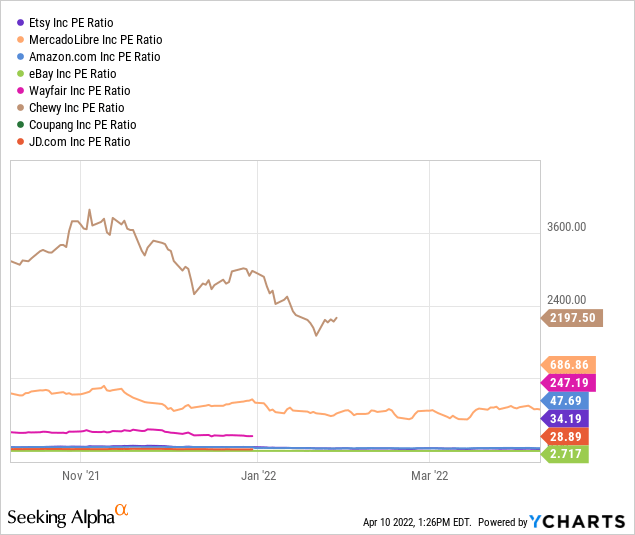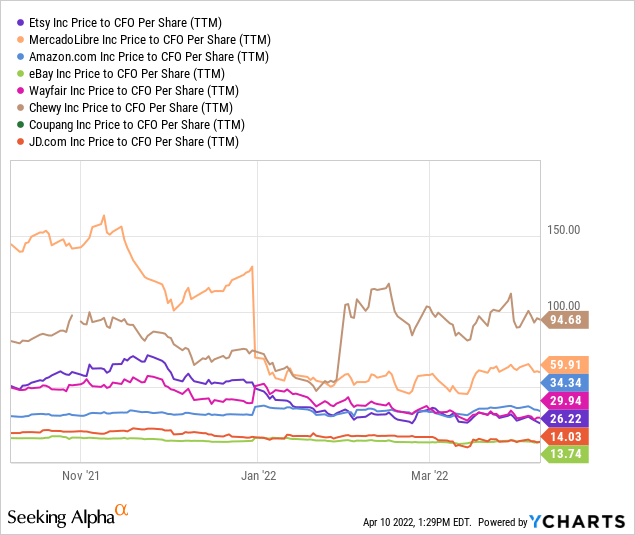 As depicted above, Etsy's trading multiples relative to its broader e-commerce peer group are below average. While the comps above are not "apples-to-apples," it does paint a clear picture to determine Etsy may be undervalued, especially given its growth prospects. The peer group selected above was determined based on whether the companies have a presence in the e-commerce space. A mix of large and small companies was selected in determining the above peer group. While the market has proven to have difficulty valuing companies with higher growth prospects, Etsy's strong financials and compressed trading multiples provide reasonable upside to shareholders looking to initiate a position.
Final Thoughts
Prior to its current sell-off, Etsy is trading 60% off its highs as COVID fears have subsided. While 2020 was a milestone year for Etsy's growth, the bears have turned the table on Etsy's stock, providing optimistic shareholders such as myself an opportunity to buy into this great business. Etsy's ability to lock in buyers and sellers through its unique offering and value proposition has created a loyal and growing customer base. Coupled with growing revenue and earnings and a reasonable multiple relative to its peer group, I am implementing a buy recommendation on Etsy. While short-term volatility may continue in the near future, Etsy's long-term growth trajectory looks promising as it carves out a niche in the $466 billion e-commerce business.