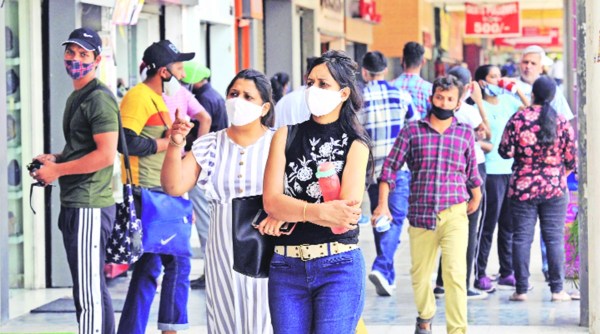 At Plaza in Sector 17 of Chandigarh, Tuesday. (Photo: Kamleshwar Singh)
On Monday, Prime Minister Narendra Modi announced that India will shift to centralised procurement of Covid-19 vaccines, after several states had faced difficulties in procuring and managing the funding of vaccines.
This marks a change from the previous policy from May 1, when the Centre had asked states to procure 25% of the doses from the open market to vaccinate the 18-44 year age group. Before that (January 16 to April 30), the Centre had procured and allocated vaccine doses to the states for free vaccination of three priority groups — healthcare workers, frontline workers, and persons above the age of 45.
The district administration on Tuesday ordered the sealing of Shri Paras Hospital, a prominent private hospital in Agra, following a purported video clip of its owner where he talks about how the hospital cut off oxygen supply to Covid-19 patients for five minutes as part of a "mock drill" to find out "who will die". He says that 22 patients were "filtered out" during this "experiment" as they "turned blue".
Speaking to The Indian Express, Agra District Magistrate Prabhu Narain Singh confirmed that the person in the video clip was the hospital owner, Dr Arinjay Jain. The incident is reported to have occurred on the morning of April 26, and the video was made on April 28.
While Jain talks about 22 patients who "turned blue", Singh said four Covid-19 patients died on April 26 and three on April 27.
Mumbai on Tuesday reported seven deaths due to Covid-19, the lowest in the last two-and-a-half months since the city recorded seven deaths on March 20 at the onset of the second wave of the pandemic. With this, Mumbai breached the 15,000 mark in Covid-19 toll.
Tuesday's toll is the first time when Mumbai reported deaths in single digit during the second wave. The city's overall toll now stands at 15,006.
On Tuesday, 682 fresh Covid-19 cases were recorded in Mumbai – daily case load is down from 900-1,000 cases a fortnight ago. While total number of active cases are over 15,000, the positivity rate has remained steady below 3 per cent since the last few days.